June 2020

Observe.AI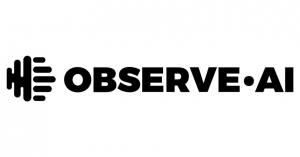 Partner: Observe.AI
Headquarters: San Francisco, CA
Founded: 2017
Publicly Traded: While Observe.AI is privately held, they have received strong rounds of funding from Scale Venture Partners, Nexus Venture Partners, Steadview Capital, 01 Advisors and Emergent Ventures.
Solution Overview: Observe.AI is the future of speech analytics systems for contact centers. Legacy systems can't keep up with the growing demands of modern contact centers. Your contact center is often the frontline of your business and it represents your brand to the masses; therefore, it's important to recognize how the customer feels and how you can resolve the issue as quickly as possible. Time is money, and Observe.AI helps you maximize every moment.
Observe.AI boasts impressive results, such as 10x more feedback to agents, 5% increase in CSAT scores and a 20% decrease in training time. These are truly impressive outcomes that will improve your customer interactions and make your business more money.
Observe.AI has also been diligent to focus on key integrations that drive the success of the platform, which includes Nice inContact, Talkdesk, Five9, Salesforce, Genesys, Microsoft, Twilio and more.
Quick Description: Speech Analytics for Contact Centers
Is This Solution Right for Me? Do you want to take advantage of speech and natural language processing? Do you want to provide in-depth coaching for your agents in real-time?
Speech Analytics
Natural Language Analytics
Adaptive Coaching
Quality Assurance
If your organization is looking to refresh your network, please engage our team at BEK Networks for next steps.